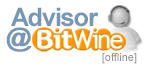 Skyline Coaching is now registered with the Bitwine Online Coaching Network and so now it is easier than ever to either receive personal coaching from me or to be coached by another expert.

How Does this Service Work?

You can use one of the links in this post or simply look for the Bitwine Button on this site to contact me. There is also an option on the Bitwine homepage that will allow you do search for an advisor using certain keywords.

If you want a coaching session with me then on my Bitwine web page you will notice that there are two buttons along the right side of my "advisor profile page". The buttons are titled:

1. "Chat with Me" and,

2. "Leave a Message".

So if I'm online you can start a live chat with me immediately by clicking the "Chat with Me" button. There is no charge for starting a live chat with an advisor. However, if I'm busy or offline then you can simply leave me a message by clicking the "Leave a Message". Then I'll get back to you, via regular email, to schedule a time for your initial free consultation or to schedule a time for a paid session.

Use Your Computer to Talk to Me

In order to have an audio session with me, you will have to install the Skype software on your computer. You can download Skype by clicking te link below and following the instructions:


www.skype.com/download

You will need to have at least a microphone and speakers connected to your computer. Once you are set up I can then invite you to a free voice conversation over Skype which will result in an invitation message in your chat box.

Once you click the invitation, a Skype call will be initiated. Keep your chat session open while talking over Skype! It is still useable and you need it to stay connected while you are having your coaching session.

Note - you cannot initiate a Skype call by yourself. You have to request that a Skype call be initiated.



Use Your Regular Phone to Talk to Me



In addition to using Skype you can also use your regular phone. After you contact me via Instant Messaging I can invite you to switch to a free voice conversation over a regular phone. You will see an invitation to switch to a phone conversation in the chat box, and when you click on it you will be requested to fill in your phone number.

After that, your phone will ring and you will be able to continue your consultation over the phone.Again keep your chat session open while talking over the phone! It is still usable and it is required to stay connected while you are conversing with your coach.Note - you cannot initiate a phone call by yourself. You have to request that a phone call be initiated.



Is the Service Free?



Your initial introduction with me is free. Its purpose is for you and I to make sure that we are a good fit. I offer a free introductory session up to 30 minutes. Thereafter, I either charge a fixed rate for your particular task or I charge a per-minute rate.

How Do You Pay for Your Coaching Sessions?

After your initial introductory session, if you want to continue I will ask you to pay in order to continue. A message with a payment request will appear in your chat box. If you agree to pay for the service, click on the payment request message.

You will be taken to a payment screen where you can pay either with a Paypal™ account or with any Credit Card. After you pay, I will receive notification of your payment and you may continue your session.



How Do I Leave a Review for My Coaching Session?



At the end of the session, you will be asked for a review of the coaching you received from me. This is very important as it helps me to improve my service to you and to other clients. Plus, it helps future clients make educated decisions when thinking about hiring me as their coach.



FREE Gift for Checking Out this New Service



So do check me out at Bitwine Online Coaching. Everyone who books a free consultation with me through this new service will receive a FREE gift of a positive affirmations, subliminal MP3 on the theme of "Boost Your Self-Confidence".